Congo & USA: 7405 miles distant and a mere heartbeat apart.
"Small world" seems almost trite in this cyber-era. Still, some connections shake us into seeing how closely bound we all are, riding through space together on our small globe.
Our thread is love.
Filed under: Community |
Comment (0) Article tags: Congo, connections
Did PBS have a tip-off from the Vatican about the Jubilee Year of Mercy when its TV series "Mercy Street" went into production for this year?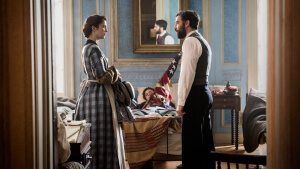 Merciful, merciless… they're all here, in these "inspired-by-history" episodes set in a Civil War hospital in Alexandria, Virginia.
My ears pricked up whenever the characters claimed mercy as their motive: for anesthesia during an amputation or for arms-smuggling to supposedly end the war faster. There's plenty of opportunity for merciful forgiveness but not much practice of it.
We can all ask ourselves how we take those opportunities: To whom am I merciless? Maybe to myself?
Filed under: Spirituality |
Comment (1) Article tags: Mercy
Do you enjoy the insights of others who take the Gospel seriously? We'll share ours and invite yours.
Are you pondering contemporary reality? Maybe our consecrated life in the world will offer a fresh perspective.
Are you seeking a wise guide for your own spiritual life? That might be Angela Merici. Through the centuries many women and men have benefitted from her counsel, not only her daughters.
You can participate through commenting below, including suggesting future topics.
Whether you come as an occasional visitor, a regular reader, or a partner in conversation, we hope you'll enjoy your time here. Look for new posts about once a month and for comments and exchanges in between.
Filed under: Community |